The Sacred Oak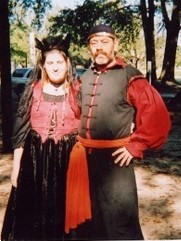 You are probably wondering who is The Sacred Oak? Well The Sacred Oak is a pagan, wiccan, occult, metaphysical
shop that also makes Renaissance and Mediwval items to clothing. We are a husband and wife team. Willow aka
Tonie makes the clothing, jewelry, and many other little things. LeUrick aka Ed makes the Armour, and heavy
objects. We have run the Sacred Oak For over 6 years now. We no lomger have a physical shop where one can come in and vist but
we do have an online shop. You may visit it by clicking here.
Willow aka Tonie is the one who started this Team. She runs it with StemOfThorns. She had came to Stem
asking her if she thought a Dark based Street Team would be a good thing. As the weeks went by it has turned
out to be qyite a good little team. Willow is very protective of the project and the members within her team. She does not hand out
private information. What you see on each members profiles is what they want people to know.
Now enugh of that go visit our shop, website, blog and get to know us a little better!
Home or Members Page